Latest Video
Navigation
Products
Contact Us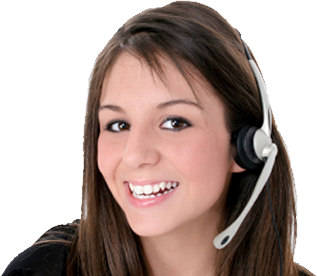 Thank you for visiting
EnergySavingShades.com
If you have immediate questions
please call us 9 – 5 EST
at:outside NYC 800-729-4438
inside NYC 718-760-7903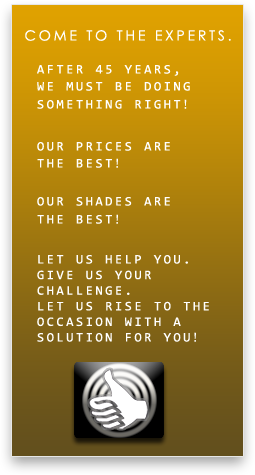 Marine Shades - Pilot House Shades - Cab Shades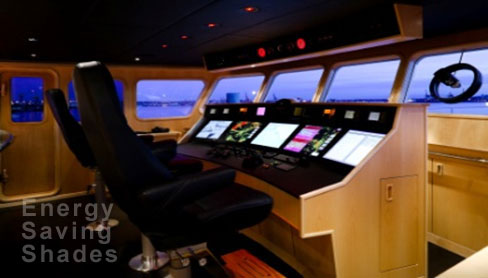 Gentle Touch or Heavy Hand, Energy Saving Shades provides years of problem free service. All systems feature placement drive components which can be easily changed without removing the shade material from the roller.
Safety locking brackets are supplied with every shade.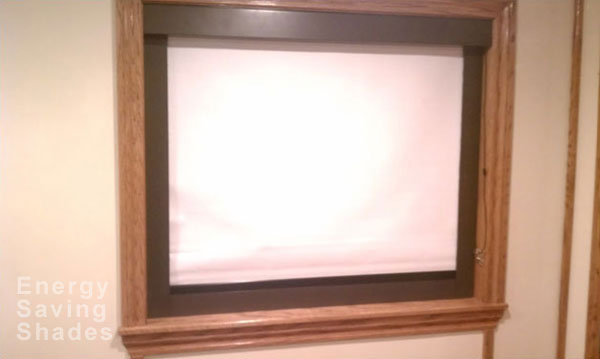 Sleeping quarters are easily converted to total darkness when using our Modular Light Blocking System. Side Channels, Bottom Channels and top dual fascia provide total light blocking. Shade materials are fire proof 12oz vinyl coated fiberglass with a choice of interior colors. Sun side is white to reflect heat away from the room making it easier to stay cool. In cold winters, the double layer provides dead air space eliminating cold drafts.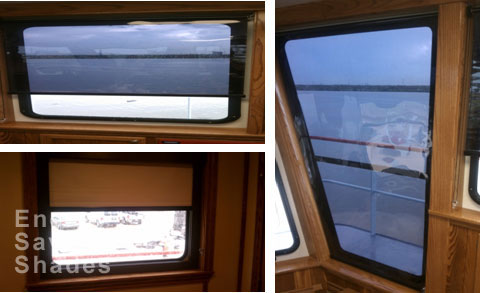 Windows – Blinding Glare and Heat are constant problems, especially bothersome in the marine environment, that's why total glare control is a necessary requirement for the function of the job. Energy Saving Shades provides the solution and maintains full visibility.
Offered in neutral transparent shades of Grey that does not distort visual light signals, Energy Saving Shades provides scratch resistant, heat reflection coating for intense Sun Loads or Smoke/Smoke for moderate conditions.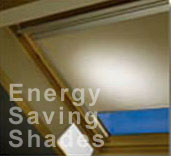 Roller Systems are available with automatic spring roller functions. Larger shades use our chain driver and even motorized. We offer a 12 volt battery system with radio controls as well.

Energy Saving Shades provides shades that are:
Designed for vision out even in harsh sun conditions
Transparent Neutral Grey (other colors are also available)
Medium Dark-for moderate sun conditions #1
Industrial Strength dark for Maximum Glare protection #25
3 Lifting Systems to meet any requirement
Select the roller system that best meets your requirements:
Automatic Spring Roller (Features replaceable drive):
This is the ideal system for smailler window areas for fuller coverage. Our Safety locking Brackets secure the roller in place even in the worst sea conditions. Simple to use: Pull Shade down by the bottom bar pull or even easier the optional handle to the desired height.
Raise shade by pulling on the bottom bar and guide back up or to the height required.
Clutch Roller System:
Clutch drive for larger shades or shades in areas that are difficult to reach. Our Safety Locking Brackets secure the roller in place even in the worst sea conditions. The drive mechanism is available in Black and White.
Includes virtually unbreakable Nylon Bead Chain in White, Black, Bronze, Grey or Stainless Steel for a slight up charge.
Factory will provide the Clutch lifting power to match shade weight.
Battery Motor System:
Motorization is also available using a 12 volt battery system or 110 volt for large shades. Simple radio control with a range of 75 feet commands up and down movement of the shade.
Special Design System:
The ideal solution for window areas that are wider at the bottom than the top. The shade is cut to the window shape for best coverage.
Shade pulls from the sill up through a simple pulley system. It incorporates our heavy duty Automatic Spring Roller that retracts the shade and provides constant pressure to keep the material tight.
Energy Saving Shades also manufactures ships and installs Air Traffic Control Towers that meet all FAA and Military specifications in regard to film material, fit and operation.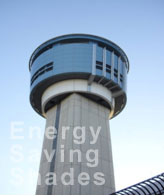 Energy Saving Shades manufactures, ships, and installs:

Airport and Marine Shades
Air Traffic Control Towers
Industrial Shipping Vessels
Tractors, Trucks and Buses